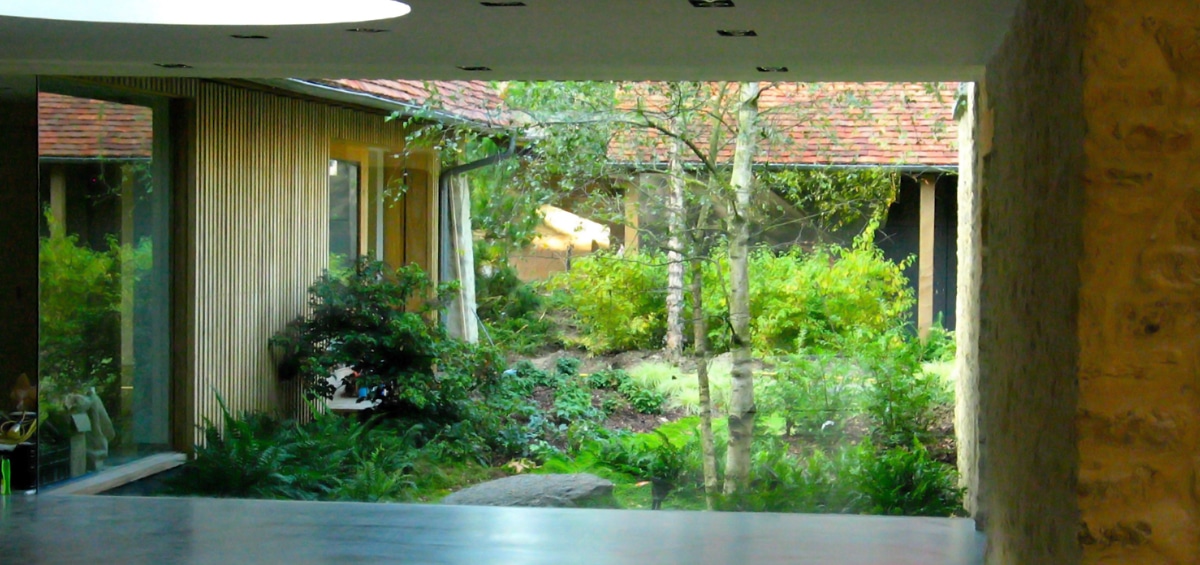 All Saints Lane
A pair of large dwellings | Sutton Courtenay, Oxfordshire
These stunning homes take full advantage of the secluded wooded site and offer occupants a contemporary living experience within a large dwelling which respects and engages with both the village setting and the immediate landscape.
Village properties in this context are often adapted and extended over time.  These interventions give a village and its buildings character and a pleasing visual aesthetic.  This complexity through evolution and the rural nature of the existing surrounding buildings has driven the design of the homes.  The design breaks the perceived bulk of one large dwelling into smaller barn-like elements to give the impression that the dwelling has evolved over time.
The build-up of the plan starts from three simple elements, one solid element – emulating a thatched stone barn and two smaller elements emulating single-storey barn elements.  Circulation routes and views are then overlaid onto the plan form in order to provide the living accommodation.
The main living area occupies the ground floor of the stone 'barn', accommodating the kitchen and main living area.  These areas then lead into other living areas such as the formal dining area and family areas. Again constant reference to the site and its landscape are available through glazed openings. In this main living space is a stair leading to the two main bedrooms occupying the first-floor level.  These bedrooms are oriented east/west and take advantage of the gables of the main 'barn' element to provide views out further into the landscape.
In utilising the barn aesthetic for the dwellings, creation of overhanging eaves around much of the building allows the use of the garden and landscaped areas for much of the year.  By having the buildings seemingly extend beyond one's vision a level of comfort is given internally, and also ensures the buildings do not dominate the site by having large areas of vertical wall.
Externally the principal building elements are to be clad with traditional and natural materials; traditional straw thatch roofing for the main 'barn' element and the smaller 'outbuildings' will have natural clay peg tiles for roofing and vertical timber boarded walls.  These elements reference back to the immediate context of the village and surrounding farmland alike.
Floor Area

641

square metres
Build Cost

£1.5m

approximately