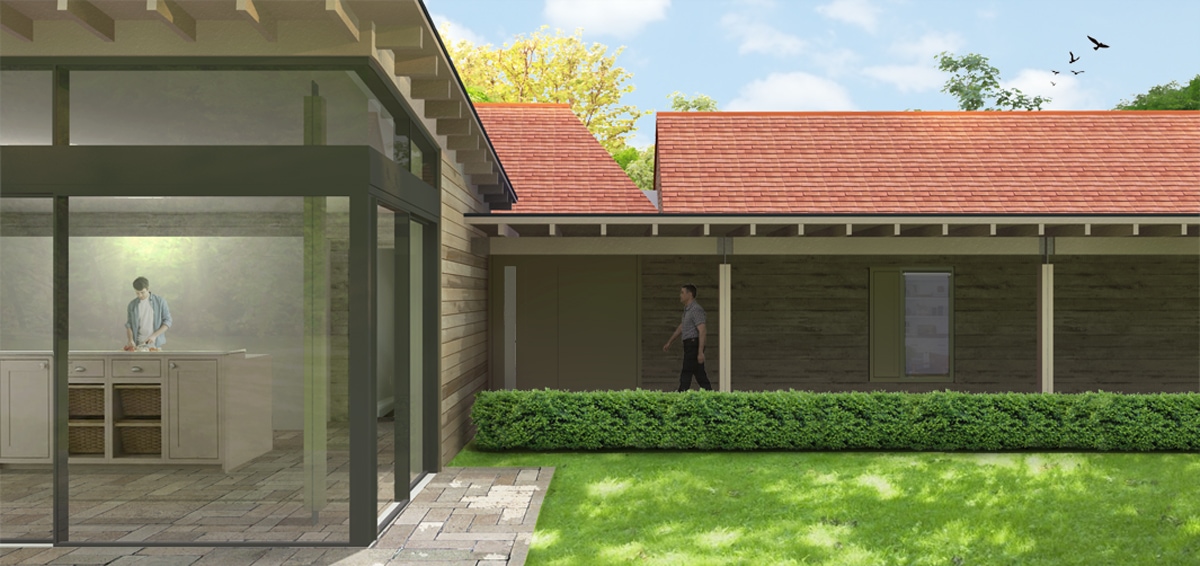 Broadleaze Farm
Conversion of a barn complex to a dwelling
Set on the edge of a village in rural Oxfordshire, this scheme converts three interlinked, oak-framed barns into a single storey, 4-bedroom house. It also includes an adjacent Dutch barn becoming a garage and garden store with a home office above.
Although not listed, the barns dated back to 1878 and are considered heritage assets. Our design sought to ensure that as little alteration as possible was undertaken to the original timber structure whilst respecting the historic form and simple, functional character of the barns.
The open-fronted barns are quite shallow in depth, so a radical approach to convert the barns into a dwelling was needed. A flat-roofed corridor on the northern side of the barns' stone walls links all areas of the house ensuring space has not been lost in any of the bedrooms. It also serves to create a link between the original barns and the overtly contemporary kitchen extension, a respectful counterpoint to the historic structures of the barn. The open-fronted nature of the barns has been used to advantage by providing large areas of glazing opening onto the south-facing walled garden enclosure.
Either side of the central open plan living space, the flanking barns contain four bedrooms, all with vaulted ceilings and en-suited. The original barns showed evidence of barn owls having nested there, so replacement nesting and roosting sites were provided within the gable end walls.
Externally, the dutch barn maintains its agricultural origin whilst internally a first floor provides a home office and storage space. Its modern appearance provides a pleasant contrast to the agricultural vernacular of the timber-framed barns.
Floor Area

286 (exg. 208)

square metres
Progress

09.19

under construction