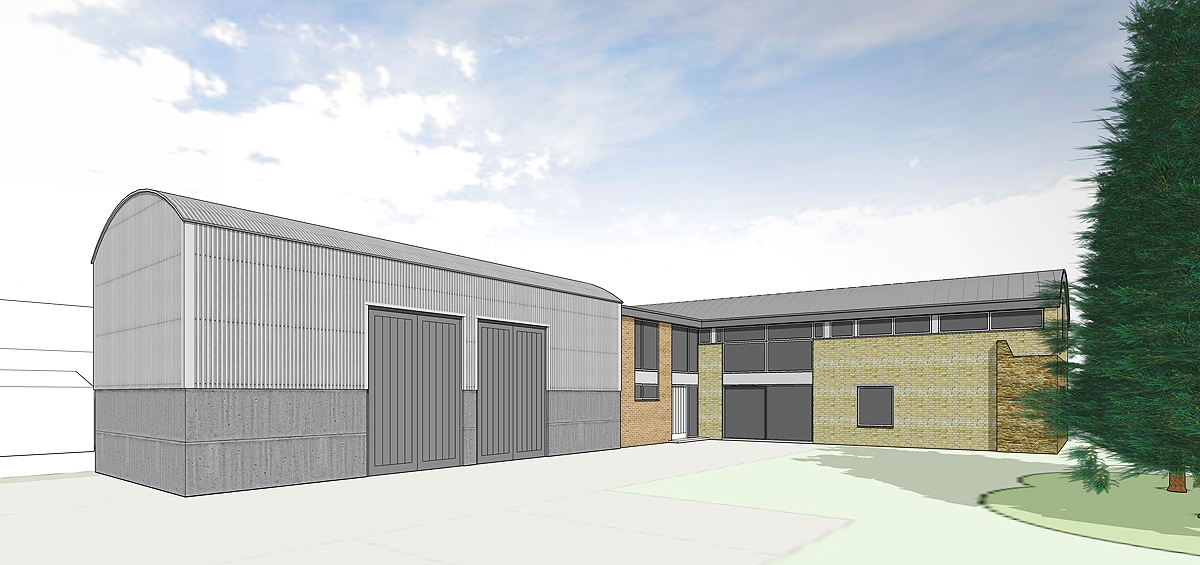 Lower Berrick Farm
workshop conversion to dwelling and attached workshop
Originally a stone threshing barn occupied the site of this building within a complex of outbuildings of a former dairy farm.  Following a substantial fire, the barn was rebuilt using bricks from a shortlived brickworks. With a typical repair and reuse mentality, the new building was topped with a roof from a Dutch barn.
Our client has run a successful business, for over 15 years, from the building.  They wished to develop the site to provide a home and workshop in order to stay in the locality. The proposal was to convert the existing building to create a dwelling with a link to a new workshop; forming a live/work unit.
In the early C20th, as a result of the brick reconstruction, the proportions of the building became unbalanced.  It was proposed that the roof would be raised, allowing the introduction of clerestory glazing along both eaves. This would improve not only the overall proportions but allow natural light to enter the building without creating new openings in the historic fabric.  On the inside, a new intermediate floor will replace the existing mezzanine floors.  Around the central living space, a galleried floor takes advantage of the double height east and west openings.
To the west façade, a structure provides a new entrance to the building, with a link to the new workshop.  Built from contrasting brick to differentiate the differing construction periods of the building, the link will house the applicant's office for the business, as well as direct access into the workshop at first floor level.
Our approach to this design is considered, high quality and respectful of the fabric and history of the existing building.
Floor Area

384 (EXG. 206)

square metres
Progress

02.19

planning consent