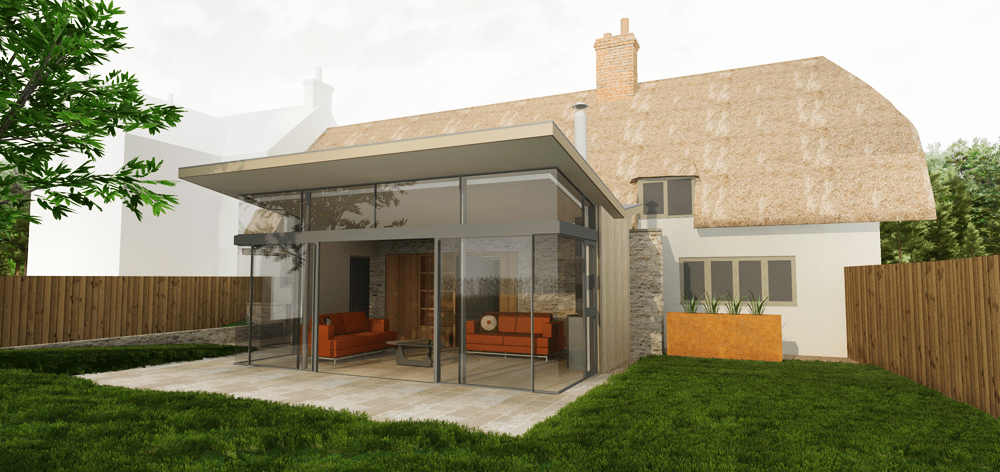 Kingstone Winslow
Modern rear extension to Listed, Grade II dwelling
Located within the Kingston Lisle conservation area, the single storey rear extension and internal alterations to this Listed, Grade II cottage required high-quality modern design elements honest to the style of its historic architecture.
Built in the 17th century and later modified in the 19th, the property has evolved from three separate dwellings and consequently linear in plan. The majority of the rear wall was found to be a later 20th century replacement and as such provided the ideal location to extend. By siting the extension away from the oldest parts of the cottage, no material harm would be caused to the historically significant fabric of the thatch and underlying structures.
Our scheme for a garden room linked to the house sought to provide a light filled space as well as formalising the rear entrance to the property. An inverted pitched roof was used to maximise the views and north light into the space. This proposal has the added advantage of providing a clerestory to give views of the existing thatched roof above the link structure as well as capturing direct late afternoon/evening light. To reduce the visual weight of the new structure, the garden room walls were clad in vertical slatted timber. This contrasts the cottage's 'heavy' structure whilst the vertical lines echo the direction of the thatch. With time the timber will weather to compliment the thatch.
To maintain continuous access between the existing kitchen area and garden room the ground level will be reduced. The flat-roofed link structure safely tucks under the existing eaves lines, thus preserving the historic fabric of the thatched roof.
We are confident that where the design process has affected the historic parts of the building it has been, as far as is practicable, a 'hands-off' approach. Along with previous historic alterations, periods of change are clearly legible. Our proposal conserves the building's character and historic fabric whilst balancing the evolutionary requirements of modern living patterns.
Floor Area

40

square metres
Progress

06.19

planning consent