Ask the Architects – Homebuilding & Renovating Show | 28-29 June 2014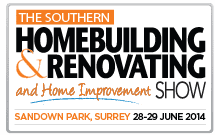 Are you planning a major overhaul of your house, or looking to extend your property to take advantage of glorious views? If so then come and visit Allister at the RIBA's Ask the Architects stand at the Homebuilding and Renovating Show at Sandown Park in Surrey on Saturday 28 June 2014.
Ask the Architects | Homebuilding & Renovating Show, Sandown Park, Surrey | 28-29 June 2014
Whatever the scale, undertaking a building project can be a daunting experience. In the Ask an Architect area, a chartered architect from the Royal Institute of British Architects [RIBA] will be on hand to give FREE advice and support in a 15 minute consultation.
A RIBA chartered architect can:
• Help you achieve your aspirations and vision
• Add value to your project through good design and sound construction
• Bring creativity to your project whilst keeping it on track
• Guide you through the design and construction process
• Give you peace of mind
Visitor's are asked to book in advance for a free 15 minute consultation with Allister. If you can't make Saturday, then another RIBA Architect will be on hand on Sunday 29 June 2014 to also offer advice.