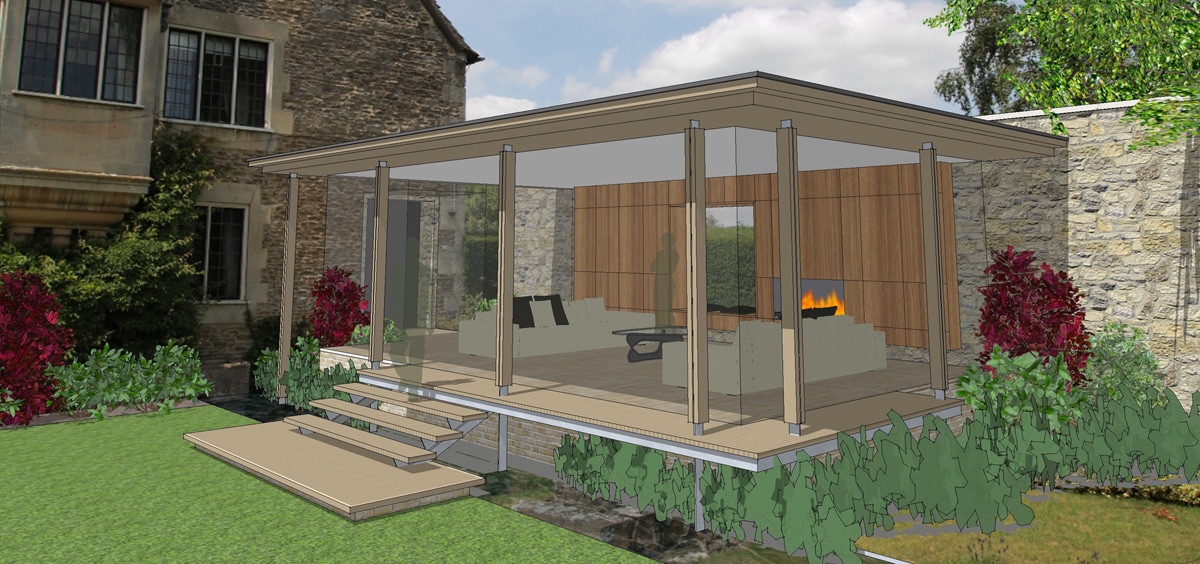 Listed Manor
Garden room for Listed Manor | Oxfordshire
Delving into the history of the Manor, we came across the original design drawings for the landscape works to the grounds of the manor.  The passage of time has masked the original formality of the layout, but the structure of the scheme was just about visible on the ground.  The area where our clients were looking to extend was the rose garden; whilst the rill and Yew hedging remained intact the pathways and planting beds had been lost.
The Yew hedging created a very private secluded space for this part of the garden, yet access to this space was somewhat tortuous.  Other challenges included the orientation of the garden to the east side of the property. This meant that direct sunlight was lost after midday, but the views across the valley and of the village church helped compensate and steer the proposal.
The idea of a lightweight pavilion that was gently touching the Manor house was envisaged.  The pavilion would be anchored to the site with a think stone wall to the north, replacing a portion of the Yew hedging. A large opening would frame views across the valley and offer a glimpse of the church.  From the south it would appear to float over the existing rill and be fully glazed to maximise light penetration in the latter parts of the day; the time when the space would be used the most.
Floor Area

50

square metres
Build Cost

120k

approximately