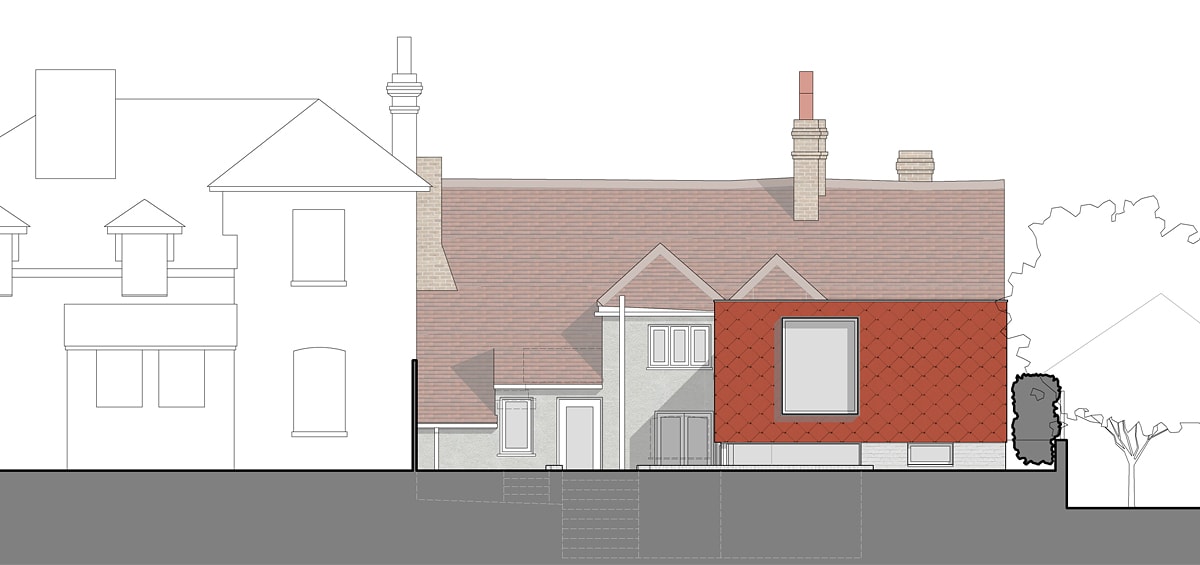 Church Street
 major refurbishment of historic property with modern front and rear extensions
Underneath a mass of C20th accretions is an original C17th timber-framed dwelling.  As far as we can tell the house was repaired late C18th with the frontage gentrified in late C19th.  During its life, a poulterer ran his business from a building attached to the front of the house.  Gabriel Machin, the renowned butchers in Henley-on-Thames, is believed to had its origins here.  With the advent of the railway, the gentrification of the house reflected the expansion of a small agricultural village into a bustling town.
The house and internal spaces are small and restricted in height, primarily due to the significant age of the structure.  A number of interconnecting rooms further restricted the utilisation of space for a modern home.  The extension and refurbishment create additional and functional living spaces whilst still respecting the historic fabric of the building.  The proposed layout includes the closure of the main entrance – adding usable space to the living area – and creating a new entrance via the adjacent single-storey wing (the old poulterers building).
At the rear, we proposed a modern two-storey extension providing a kitchen/dining space to the ground floor and a bedroom suite to the first floor.  Modern standards mean that using traditional building forms can make extensions look incongruous against their historic counterparts.  To respect the fabric of the historic walls and roof a flat-roofed design became the obvious form for the extension.  With floors at different levels to the existing building, separating the structure using simple glazing at the ground and first-floor made linking to the extension light and simple.  The simple cube-like structure of the bedroom appears to float over the open glass-sided kitchen.
Working closely with a heritage consultant and the council's conservation officer, we have secured permission for essential repairs and exciting contemporary extensions.  Furthermore, this will ensure the longevity of this historic asset, adding another layer of history.
Floor Area

187 (EXG.127)

square metres
Progress

03.20

under construction