Shortlisted for the Real Homes Transformation Awards 2016
We are delighted to announce that two of our extension projects have been shortlisted for the Real Homes Transformation Awards 2016.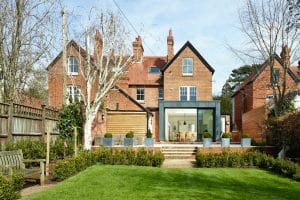 Shortlisted single storey contemporary extension by Allister Godfrey Architects
#RealHomesAwards
The competition was set up to give home owners the chance to showcase their own home transformations. This could be a modest bathroom renovation or even the conversion of a chapel into a home. There are four categories with our projects being entered into the 'best extension' category.
The judges have selected a shortlist and will soon decide the overall winner and category winners. These will be announced in the January 2017 edition of Real Homes magazine. In the meantime, you can view the shortlist here.
We have our fingers crossed for our clients that both projects will do well, validating the time, effort and expense that they have invested into the projects.
If you are thinking about starting your own transformation please get in touch for some friendly advice on planning, designing and creating a project that will exceed all your expectations – it may even win an award one day …
Allister Godfrey RIBA
01235 760693 | hello@allistergodfrey.com