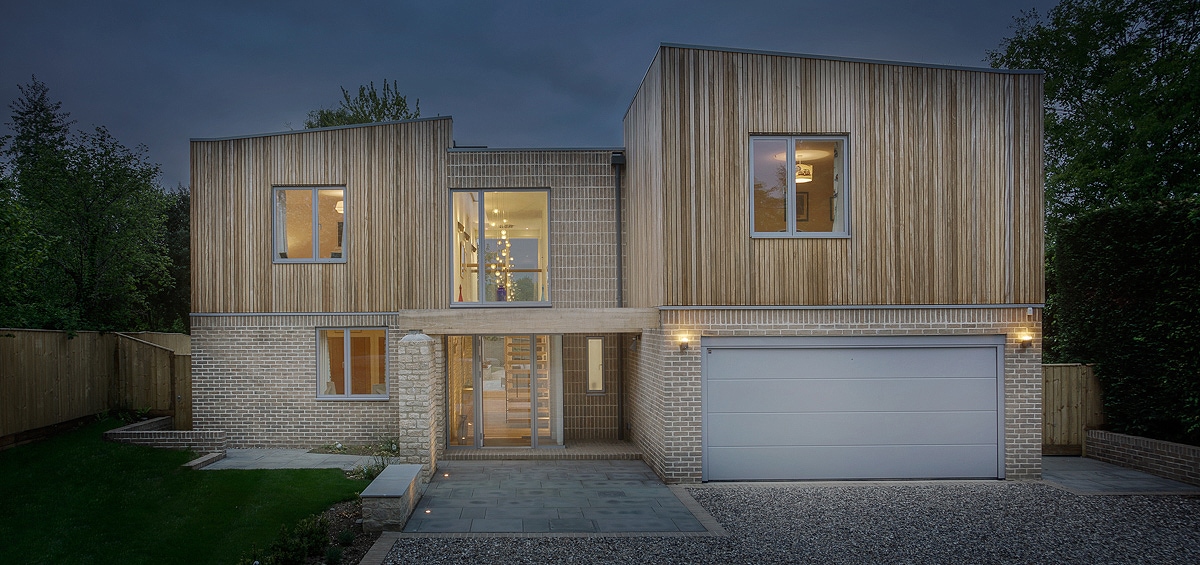 Park Lane
new sustainable replacement dwelling | Appleton, Oxfordshire
shortlisted for Best Individual New Home in 2017 LABC Building Excellence Awards
For over the five years our clients had been on a quest to find a site where the ambition of building a sustainable modern dwelling could be realised. Late in 2014 the ideal opportunity and the right location came along; a tired 1960's bungalow in a leafy, secluded part of the village.
The site was not without a number of planning constraints – the neighbouring historic cottage directly overlooks the front of the property, right on the edge of the conservation area and the garden bisected by Green Belt. After a challenging planning campaign, we obtained planning permission mid-2015 and demolition of the old bungalow kicked started the 10 month build.
The modern form is driven partly by context and planning constraints and partly from the sustainable functionality of the house; the roof has to be flat to accommodate the array of photo-voltaic panels for instance.
The existing stone boundary wall was retained and a ribbon of stone appears on the ground near the entrance, becomes a wall in the hallway and directs the view through to the rear of the building, much like a palimpsest of a stone cottage that may have formerly occupied the site. The choice of a Cotswold buff facing brick and unfinished timber cladding all serve to visually anchor the house to its location.
Our clients have left behind comfortable, but dark, draughty, thatched stone cottages and have truly embraced their warm, mechanically ventilated, ground source heated, modern and light-filled home.
Floor Area

292

square metres
Build Cost

£700k

approximately