Creating rooms that are both inside and out, a seamless transition
Allister Godfrey Architects are featured in this month's Ideal Home magazine (August 2013) for their incredible transformation of a dated 1920s home with a contemporary open plan extension providing light and space and effectively extending the dining room into the garden.
'It's well worth employing an Architect, even for a small project, because they come up with ideas you wouldn't think of yourself.'   Sophie Anderson, Owner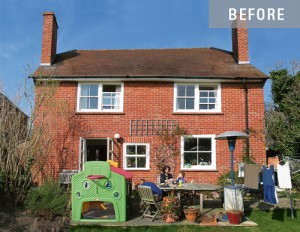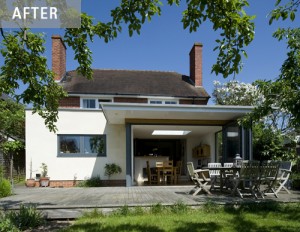 The house also appeared in October 2012 Homebuilding & Renovating as an outstanding example of combining the old with the new, for Mark and Sophie Anderson who wanted a bigger home with more open space.
Simple transitions from inside to out
The bi-folding doors enable the family to open the dining area and extend that room into the level outdoor space. The flat roof provides cover for this 'transitional' space so the doors can be opened in all weathers, which helps to soften the transition from inside to out.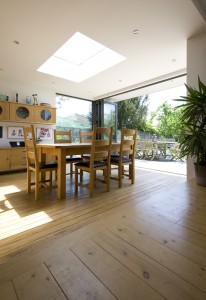 If you are thinking of extending a room outside then consider …
Flooring – Using the same flooring inside and out effectively eliminates any obvious boundaries and draws the eye outside.
Level thresholds – Levels create barriers, so recess the runners for sliding doors and ensure the threshold from inside to out is level.
Décor and materials – Use the same materials for your décor inside and out, such as plants, furniture style, colours and lighting.
Minimise barriers – Use large windows and glazed doors, frameless if possible, to reduce any obvious obstructions to the outside.
Marrying traditional with contemporary
The white rendered extension is in complete contrast to the red brick of the original house, but the small brick plinth and aluminium frames subtly connect the old with the new.
'The family wanted a more social area in their home so that they could cook, entertain and be with the children in comfort. By opening up the dining room to the decking they can now utilise the space they have in the garden in new ways and it has added even more living space to the house. We flooded the room with natural light with a roof light and large side windows.'   Allister Godfrey, Architect
If you have an extension, new build or alteration in mind, call Allister Godfrey Architects on 01793 71060 for a free consultation.