Building design retrospectives; Richard Rogers RA 80th and Allister Godfrey Architects 8th
Richard Rogers has celebrated his 80th birthday with a retrospective of his 50-year career, celebrating not only his architectural designs, but also his writing, public speaking and activism. The exhibition 'Richard Rogers RA: Inside Out' is at the Royal Academy of Art, Burlington Gardens, and runs until 30th October.
Image source: Designboom.com
An Oxford Architect's Retrospective
Allister Godfrey Architects is also celebrating 8 years in business, and in keeping with Richard Rogers' celebrations this is our retrospective on the past 8 years. Celebrating not only creating modern family homes, but impressing planning and conservation officers, as well as designing residential developments and stunning extensions and alterations.
Architects strive to make a difference. Richard Rogers' work has been described as a 'responsive type of architecture that behaves more like a public amenity than a static monument'. But on a more personal level a client of ours commented:
'We followed Allister's suggestions…it has changed the way we use our living space and made life so much better that we can't imagine living any other way now'.
A good architect should achieve something that not only looks good, but feels good and brings other dimensions and ideas above and beyond client expectations.
So in honour of our 8 years, here are the first four of eight projects that we at AG[a] are especially proud of:
A contemporary single storey extension, to provide extended living and kitchen accommodation. As featured in Homes and Renovation 2012 and Ideal Home August 2013.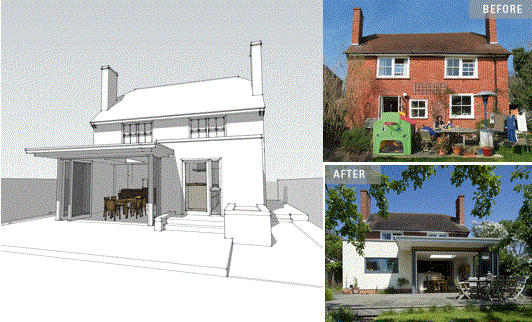 A luxury development prototype, presented in a 3D video.
A listed thatch cottage with a flat roofed extension connected to the existing cottage by a frameless glazed walkway. We retained the character of the listed building, avoided a 'pastiche' extension and created a contemporary design well received by the planning and conservation officers.

A five bedroomed contemporary dwelling that balances exciting design with cost effective forms and sustainable features. Our solution was a barn-like aesthetic that happily accorded with guidance outlined in the Chiltern Design Guide; an aspect of the planning constraints for the site.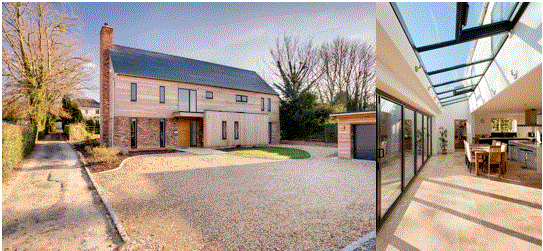 Here's what our clients had to say:
"Allister stood out amongst the five architects we invited to tender for our project, not only from his design style which invoked the toned-down modernist style we were looking for but also from his advanced preparation and ability to interpret how we lived on a daily basis and create a home which works for the way our family lives."
"From preparatory work even before our first meeting, through detailed use of the local planning design guidelines and local research to achieve our goals in the face of a traditionalist planning officer, Allister's attention to detail, enabled something unique within the market town we now live. Allister listened to our initial ideas for the home, interpreted this bringing his own experience and ideas to the design process, but ultimately was always prepared to listen to what we wanted as a client. The perfect balance of stopping us from doing anything stupid and taking our points of view in the process."
We are looking forward to our next 8 years (at least!) of outstanding designs and with the opportunity to deliver building designs that complement the needs of the client, the environment and the context.
Look out for the next 4 projects of our 8th year retrospective
If you are thinking about starting either a domestic or commercial project please get in touch for some friendly advice on planning, designing and creating a project that will exceed all your expectations.
Allister Godfrey RIBA
01793 710607
info@allistergodfrey.com